In the spririt of sharing...
On January 11th, I investigated a report received on Wednesday, January 9th, of a sighting of a Bigfoot that took place along I-84 between mileposts 27 & 26 around 9:30pm of that same day. The following is a brief summary...
I arrived on scene approximately 35 hours after the initial sighting, parking first at the Bridal Veil Post Office at exit 28. Although the witnesses claimed the sighting was between mileposts 26 & 27, I felt it best to expand the investigation site as it was dark (9:30pm) when they had their encounter.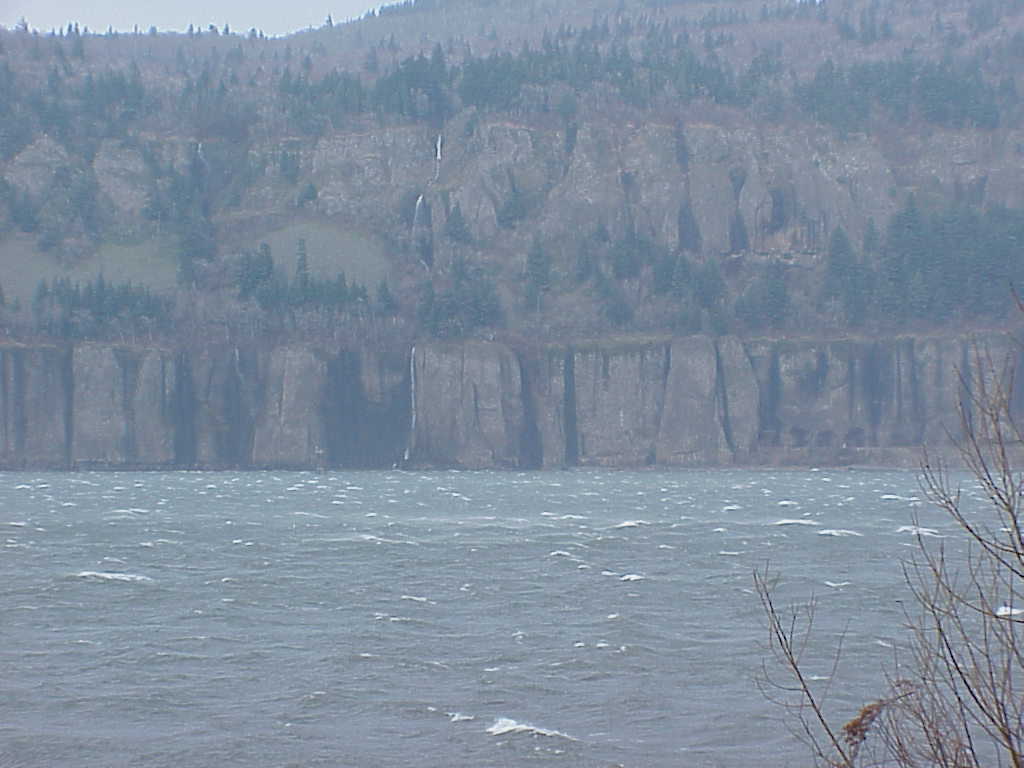 Interstate 84 runs East-West and parallels the Columbia River through the scenic Columbia River Gorge.I proceeded to cross the interstate in order to inspect the Columbia River shoreline for any evidence. The winds were blowing out of the Gorge at a constant 40 mph (with gusts reaching 60+) and the river was tossing 3 foot white-capped swells westward towards the Pacific Ocean 100 miles distant. Upon reaching the river, I proceeded west until I was blocked by Bridal Veil Creek where it drains into the Columbia River (it was flowing fairly fast and wide). The shore line consisted mainly of rocky terrain covered with mattes of grasses and sticks swept across the waters and tossed up on the beach (not the greatest medium for taking tracks). While this stretch of shoreline produced no tangible Bigfoot evidence, I did discover one amusing article...a Frisbee emblazoned with the "Animal Planet" logo (those guys are everywhere I tell ya).
I returned to my vehicle and merged back onto I-84 heading west this time, stopping at milepost 27. Once again I clambered down to the shoreline and headed back upstream until I reached the opposite side of Bridal Veil Creek and picked up where I had left off. Most of the shoreline remained as before, until I reached a point about halfway between mileposts 27 & 26. There, it evolved into a fairly decent sand-covered trail paralleling the shoreline. This made tracking much easier and I soon began spotting tracks from various animals such as deer, canines and people. I took the time to photograph every type of track, including my own, for comparative analysis. About 200 yards along the sandy trail, I discovered one unusual track.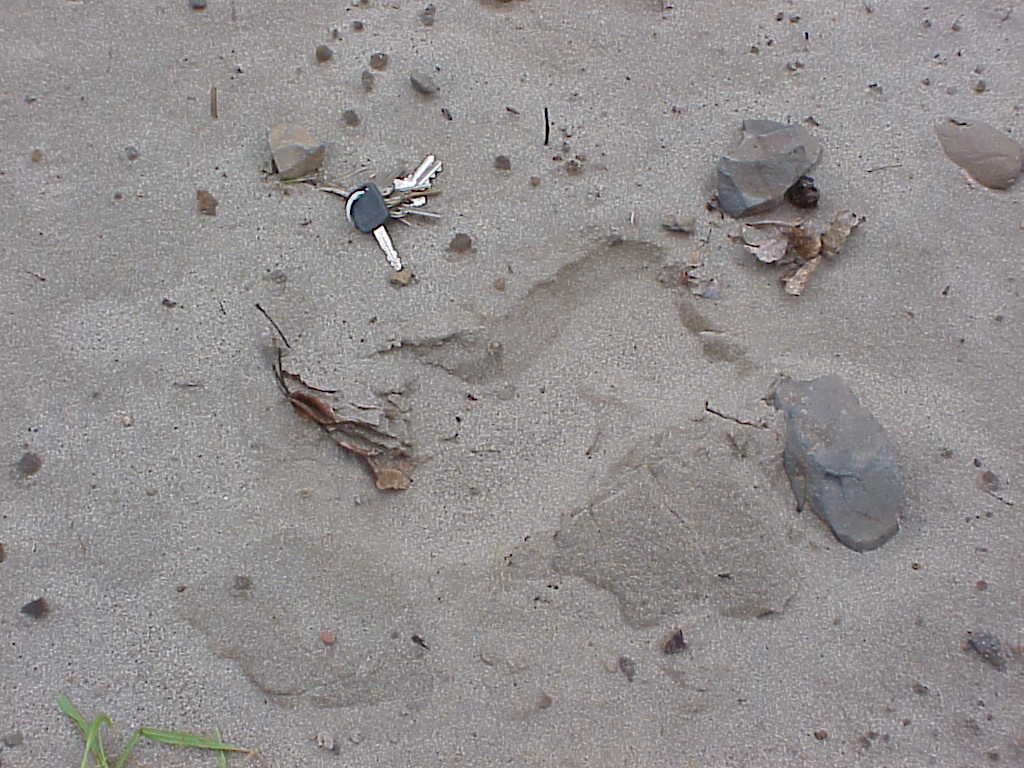 It was about 13" in length x 7" wide at the "toes" and appeared to be made by something quite heavy. It lacked any sort of tread design and had no stepped heel indentation. In addition, it flared disproportionately wider than a human track. The track appeared to be coming from the interstate and heading directly towards the river. It merely crossed the sandy path and so I had difficulty locating any clear accompanying tracks to correspond with it. I continued up to milepost 26 and then retraced my route back to the interstate. I found no other good candidates for Bigfoot tracks or any other evidence for that matter. I have embedded a photo of the track for your own interpretation. -->
I followed a well used game trail back to the interstate where I found notable damage to a barbed-wire fence perfectly aligned with the game trail. The post and a small section of the fence was bent over towards the river. Could this have been the creature's avenue of egress to the river? Possibly. This too was photographed.

In conclusion, I came away with a potential scenario\route for the creature. I suspect the game trail may have been utilized by the Bigfoot, and the fence damage a possible result of it's crossing. I did inspect the barbed-wire for traces of hair, but found none. The location of the damaged fence, game trail and "track" correspond with the eyewitnesses account.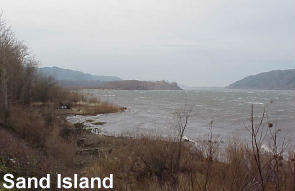 It should be noted that there have been other reports from that same area in the past and it is speculated that this may be a potential river crossing point, as Sand Island is located mid-river at this point, providing a potential resting stop midstream.
If you require additional information or should your ISP not support embedded pictures, feel free to write me and I will be happy to respond and\or send the photo as an attachment.


Posted Note in March 6, 2002
"In January, I posted a report dealing with my investigation of a sighting that took place along Interstate 84 near Rooster Rock, OR. While I inadvertantly forgot to credit my sources, I would like to do so now in the spirit of good journalism. I was originally alerted by Dennis Fenton and Rob Johnson III, who in turn, gleaned it from a report initially posted to the BFRO website. I wish to compliment them as well as Thom Powell for his refreshing openness. Let's keep the spirit of sharing flowing!"
Best Regards,
Todd M. Neiss
Executive Director
American Primate Foundation
Mt. Hood, Oregon

Additional Note March 10: Thom Powell contacted the witness by cell phone on the 9th of February. Todd Neiss did the onsite investigation February 11th; Ray Crowe also did an onsite investigation.
I think that pretty much covers it correctly, right? Who did I forget? B.Short