Dermal Ridge Examination Report: Georgia Casting
To: Dr. Jeff Meldrum
Dept. Biological Science
Idaho State University
Pocatello, Idaho

From: J. H. Chilcutt
Latent Fingerprint Examiner
Conroe Police Department
Conroe, Texas

On November 15, 1999 I received from Dr. Jeff Meldrum a plaster cast footprint. The cast was made by Deputy James P. Akin of the Pike County Sheriff's Office in Pike County, Georgia in 1997 from an impression found in the Elkins Creek flood plain. The cast was 17.5" long and 8.5" wide.



Elkins Creek Casting Area
The Elkins Creek casting was examined over a period of several months and I observed several areas on the cast where primate dermal ridges appeared.
Area "A"
Area "B"
Area "C"
Area "D"
Elkins Creek Georgia Cast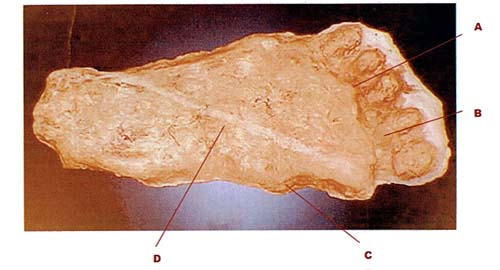 Area "A" is located at the first joint of the fourth toe, where the toe meets the foot. Note the ridge detail shown. This area has several of the characteristics found in the human ridge pattern.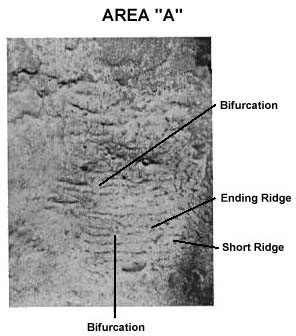 Area "B" is located at the first joint of the second toe. On the dermal ridges of both areas, sweat pores can be seen with a magnifying glass.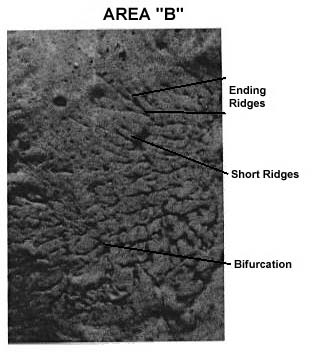 Area "C" is located on the right side of the left foot. Notice that the ridges run lengthwise along the side of the foot. This longitudinal flow of the ridges is not found in the human or known non-human primate.

This ridge flow is consistent with the ridge flow of the 1967 Blue Creek Mountain Road casting and the 1984 Walla Walla, Table Spring casting.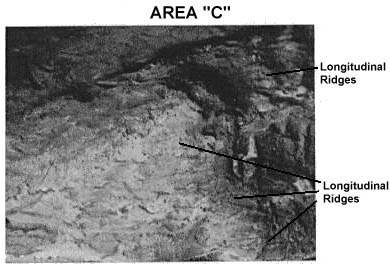 Area "D" is located in the center of the foot and shows lateral ridges of the animal and ridges that I believe were applied accidently by the person making the cast.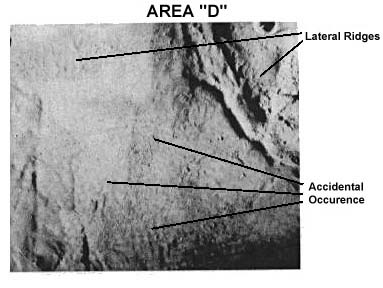 After a considerable amount of time studying the four areas indicated above, I have come to the conclusion that the dermal ridges in Areas "A" and "B" are definitely the ridges of a non-human primate. This conclusion is based on the fact that humans have creases running perpendicular to the lateral ridges on the first joint of the toes where the toe meets the foot. No such creases were observed in Areas "A" or "B". (See attached appendix #1) In area the ridges flow lengthwise along the side of the foot. This does not occur in the human or the known non-human primate. This ridge flow is also consistent with the 1967 Blue Creek Mountain Road cast and the 1984 Walla Walla, Table Spring cast.

Based on the conclusions reached after careful study of the Elkins Creek Cast I give the following opinion:

The Elkins Creek Cast is that of an unknown primate.

J.H, Chilcutt
Latent Fingerprint Examiner
Conroe Police Department.



Appendix #1
Area "A"
Area "B"
First toe joint of a human
Note longitudinal stress creases running perpendicular to the lateral ridges