Multnomah County, Oregon
January 9th, 2002

On 1-84, westbound lane, about 3-4 miles west of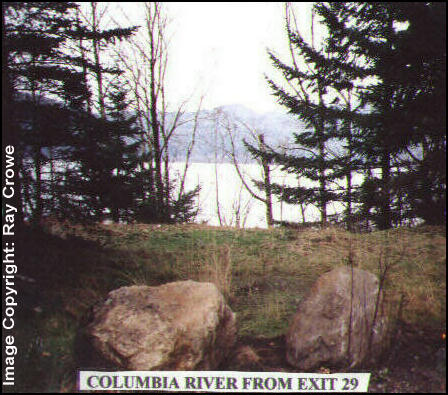 Multnomah Falls, between, mile markers 26 and 27. Driving 65-70 mph, when the 7-8 foot tall creature was seen by Jason Boydston, and his mother Linda, who was driving, at 9:15 PM.

Creature crossed in front of car toward railing on freeway to the right, as if it was heading toward the Columbia River.

She nearly hit it, missing by two feet. It was dark and overcast when the creature crossed swiftly, swinging its arms.

It had broad shoulders, skinny waist, and was completely covered in dark brown hair, and had a rounded, dome shaped head.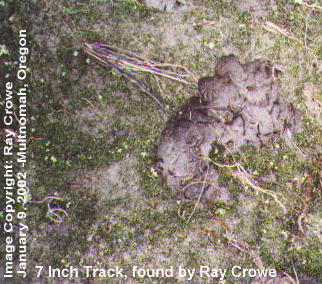 On January 13th myself (Ray Crowe) and wife Theata investigated the area at milepost 28, where there was a place along the freeway to park the car. Underneath an overpass there was access to the Columbia River and I did a brief survey.

Four tracks were found, one filled with silt as if the tide had receded (tides recorded upstream as far as Beacon Rock by Lewis and Clark in 1804), another seven inch impression was photographed three feet away. It was one and a quarter inches deep, and appeared to have killed plant growth.

Another three feet away, a skidded track was noted that also killed plant life.

A fourth possible track, more of a mark, was noted another three feet away. All appeared to be coming from the river and following the bank eastward.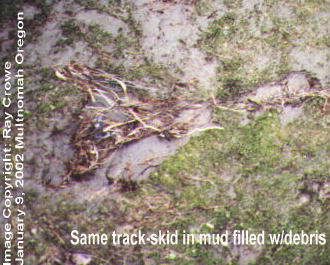 As I walked the riverbank, Theata made a car count, noting there were about 18 vehicles a minute westbound at 3:00 pm along this busy section of the freeway on Sunday afternoon.

At 9:15 pm on a Wednesday weeknight traffic has been somewhat lighter. Even at 3 pm...there were occasional breaks in traffic when I might have crossed the freeway walking rapidly.



The original report was investigated by Thom Powell, I reported the sighting to Wireless Flash News and the following appeared:


Wireless Flash Weird News: January 16, 2002
Bony Bigfoot Almost Street-Meat
MULTNOMAH FALLS, Ore. (Wireless Flash) -

An Idaho family recently had a run-in with a Bigfoot that almost turned into a run-over - as in road kill. Linda Boydson claims she and her son came within inches of running over an unusually-thin Bigfoot while driving near Multnomah Fall, Oregon. Boydson says she was zooming around a corner on the freeway late one night and saw a "very, very skinny, 9 foot tall, hairy man" standing in the slow lane. She barely missed hitting the creature - probably because it was so skinny. However, despite being super-thin, Boydson doesn't think the Sasquatch was bulimic because it looked as muscular as a well-toned athlete. However, Boydson admits her first thought when she saw how bony the Bigfoot looked was "Go eat something, Sasquatch!"

© Wireless Flash Weird News
January 2002 Track Record #113 article and photographs provided courtesy of Ray Crowe, International Bigfoot Society, Hillsboro, Oregon.