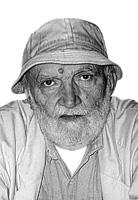 Grover Krantz never did get the smoking gun that he wanted: a sasquatch body.
The controversial Washington State University anthropologist died of pancreatic cancer in his Port Townsend home Feb. 14. By then, he had become the foremost modern expert on the creature also called Bigfoot, and he painstakingly had earned a toehold for scientific inquiry in an area previously written off as tabloid fodder.
Dr. Krantz was best known for his sasquatch work, having written several books on the subject and making media appearances that ranged from the "In Search Of ... " series in the '70s to the "Sasquatch Odyssey" documentary in 1999.
Undeterred by controversy, he advocated killing a sasquatch and producing its body as the only way to prove the primate's existence. If pursuing such a creature didn't guarantee him critics, recommending killing one certainly did.
After more than three decades at WSU, he retired from full-time work there in 1998 and moved to Port Townsend with his wife, Diane Horton, in 1999. The two met through their mutual interest in Bigfoot about 20 years ago. "He was super-intelligent," she recalled.
Dr. Krantz was a large man with a gentle demeanor and a fondness for Irish wolfhounds.
"He was a very nice fellow. He was attacked by all sorts of people, but he never attacked anyone himself," said John Green, the retired journalist and field researcher who met Krantz while investigating sasquatch reports in 1970. (The two men were included in a group facetiously dubbed "The Four Horsemen of Sasquatchery.")
But Dr. Krantz remained frustrated that most academic peers wouldn't give his work enough serious consideration even to refute it.
He brought forensic techniques to bear on a subject often given blind credence by fanatics. He made footprint molds and pointed out their dermal ridges (i.e., fingerprints), reconstructed the kind of body required to leave such prints, and analyzed the infamous 1967 film footage that allegedly captured a sasquatch walking through a forest.
His theory was that the survival of the ape Gigantopithecus, thought to be extinct, was the source of modern sightings.
He was born Nov. 5, 1931, in Salt Lake City, and he studied at universities in Utah, California and Minnesota, earning his doctorate in 1971. He joined the WSU faculty in 1968 as a physical anthropologist, and he published works on race, human evolution and the geographical development of languages, in addition to his "Sasquatchery."
"He was the quintessential scientist," said Jeff Kline, a former student of Dr. Krantz's. "The sasquatch thing always seemed to follow him around, but he wasn't doing it as this crunchy granola who had a prism hanging from his rearview mirror. For him, the world was a hypothesis. He wasn't politically correct. He wanted to know why things were the way they are."
In 1996, for example, he argued against the Indian repatriation of the 9,000-year-old Kennewick Man skeleton in favor of its scientific study and theorized that Kennewick Man might have a non-Native American origin.
Although Dr. Krantz became a tenured professor, the consensus among those who knew him was that his sasquatch pursuits seriously harmed his career. "It was a career-damaging thing to do, and he knew it," Green said.
"It was very adventurous for him to do, brave," said Loren Coleman, a cryptozoologist at the University of Southern Maine who has worked with Dr. Krantz and written about the sasquatch. "He really stuck his neck out."
But if Dr. Krantz suffered professionally in the decades before paranormal and cryptozoological subjects permeated popular culture, Coleman and Green maintain that he also opened the doors of academia for others like him. And they think he'll ultimately be validated by those successors.
"He was very disappointed toward the end that nobody had bagged one to bring it in. Up to the end, he was hoping something would happen," Coleman said.
In keeping with his career, Dr. Krantz's last act is likely to generate some curiosity. "It certainly indicates that he wanted to make the ultimate contribution to science," Green noted.
His skeleton will be sent to the Smithsonian Institution, along with most of his academic materials, for scholars to study.
"He was hoping to get his skeleton mounted for display at the Smithsonian," his wife said. "Being a physical anthropologist and being fascinated with bones all his life, it sort of makes sense."
There will be no memorial service, his wife said.

Memorials may be made to Hospice of Clallam County, P.O. Box 2014, Port Angeles, WA 98362.
Mark Rahner can be reached at 206-464-8259 or mrahner@seattletimes.com.
Copyright © 2002 The Seattle Times Company

Portions of this website are reprinted under the Fair Use Doctrine of International Copyright Law as educational material without benefit of financial gain. This proviso is applicable throughout the entire website at www.bigfootencounters.com